One of the most important events for the biostimulants industry
The New Ag International Annual Conference held this year in Barcelona brought together agricultural industry leaders, experts, and innovators to discuss the latest developments and trends in sustainable agriculture. Attendees had the opportunity to learn about new biostimulant products, crop protection technologies, and other innovations that can help improve crop yield while reducing the environmental impact of agriculture.
Highlighting our commitment to Sustainable Agriculture
Dadelos Agrosolutions, as a pioneer in the research and development of raw materials for plant biostimulants and an important contributor to Sustainable Agriculture, couldn´t miss this event. At the New Ag International Annual Conference, we were proud to be represented by our two distinguished Commercial Managers, Jose Luis Molla and Sergio Bergada. With their extensive experience and expertise in the biostimulant industry, they showcased our cutting-edge products to attendees, highlighting our commitment to sustainable agriculture solutions.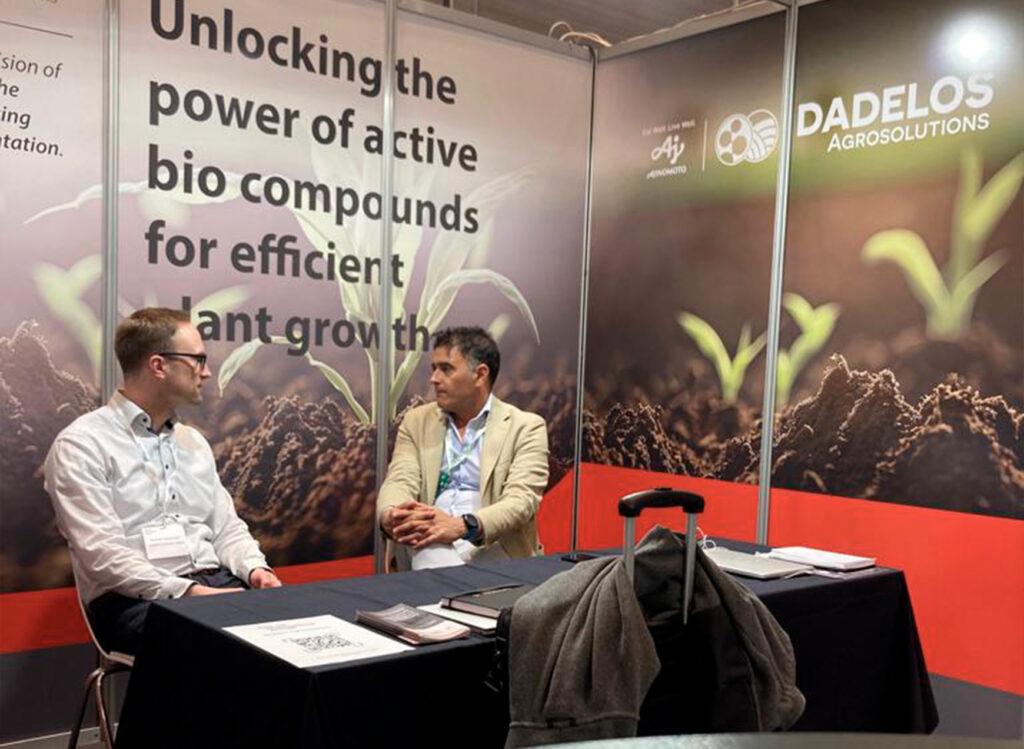 Biostimulants are becoming increasingly popular in agriculture as farmers seek sustainable and environmentally friendly solutions to boost crop productivity. The use of biostimulants can help reduce the need for synthetic fertilizers and pesticides, leading to healthier soil, cleaner water, and a more sustainable food production system.
Prepared for the growing global plant biostimulant market
We are among the leading biostimulant companies in the world, with a range of products that have been rigorously tested and proven to enhance plant growth and improve crop yield. Our products are made from high-quality natural ingredients, ensuring that they are safe for both the environment and consumers.
According to a recent report by Grand View Research, the global biostimulant market size is expected to reach USD 5.35 billion by 2025, driven by the growing demand for sustainable agriculture practices and the need to increase crop yield to feed a growing population. As a pioneer in the biostimulant industry, Dadelos Agrosolutions is well-positioned to take advantage of this growth and expand its market share.
Dadelos Agrosolutions' participation in the New Ag International Annual Conference highlights the company's commitment to developing sustainable solutions for agriculture and our growing position in the global biostimulants market.
In conclusion, Dadelos Agrosolutions is a company at the forefront of the biostimulant industry with a mission to revolutionize agriculture with sustainable and environmentally friendly solutions. As the demand for biostimulants in agriculture continues to grow, Dadelos Agrosolutions is well-positioned to lead the way in developing innovative products that benefit both farmers and the planet.